Are you a serious craftsperson who likes to work with your hands? Does the loud noise of power tools, clouds of floating dust, and creative freedom sound like an ideal day's work to you? If the answer is yes, a career in woodworking may be for you.
1. Learn the Basics of Woodworking
Woodworkers are artists who manufacture a wide range of products like furniture, cabinets, cutting boards, and tables and chairs using wood, laminates or veneers. Sometimes they combine other materials into the finished product, like ceramic tiles, glass, metals, and other hard or soft materials.
Despite the popularity of plastics, MDF (medium density fiberboard) and other materials, wood is still the product of choice for most people when it comes to the expectation of quality, value, and utility. Today, many wood products, such as musical instruments and furniture are mass-produced, but trained woodworkers make custom-made products with their hands and their tools based on drawings and architectural designs.
When many people hear the word woodworker, the image of someone leaning over a workbench sanding a long piece of wood with his or her hands. However, modern woodworking requires training on highly technical machinery, such as CNC (computerized numerical control) machines. Even woodworkers caught somewhere between modern equipment and a hand planer typically use CNC machines to fabricate large or intricate products. If working for a large company, a lot of the work will be done on an assembly line or in various areas on the floor designated to complete a particular part of a project. The tasks will be handled by different workers with very specialized training on each machine. For example, one machine might cut a large piece of wood into three sections, whereas another machine might take one of the sections and round each edge.
As part of the job, woodworkers prepare and operate saws, drill presses, routers, sanders, lathes, shapers, milling machines, and planers. Often using a template, woodworkers measure and verify dimensions, cut, and shape wooden parts. Woodworkers stain or coat the wood products with sealers and topcoats, such as varnish and lacquer. But, they also often install hardware, fit electrical components and specialty products, such as metal trims and glass.
2. Important Qualifications, Skills and Training
In order to be successful in woodworking, there are skills absolutely necessary to know and master. Many of these skills were once taught in high school's all across the nation, but today, most woodshop classes have been suspended, and people must learn through college classes, apprenticeships, internships, from professionals, or by trial and error.
Woodworkers must have good hand-eye coordination to make precise cuts; math aptitude and computer skills (especially if working in manufacturing) to properly fabricate objects and furniture; mechanical skills to adjust and calibrate machinery; physical stamina and strength. They must also be detail-oriented and have the technical skills necessary to understand and interpret drawings and manuals. In addition, the following is important knowledge to acquire and cultivate:
Knowledge of the various tools for milling, sanding, boring, etc., and how to operate them safely
Complete understanding every project's requirements
Ability to safely operate woodworking machines, including milling machines and saws
Prepare and set up machines
A good understanding of drawings, schematics, shop drawings, blueprints, and architectural drawings
Knowledge of various hand tools, drill bits, the drill press, hand drills, band saws
Knowledge of various woods; hardness, color, warping, knots, cracks, grain patterns, etc.
Knowledge of the different cuts; curved, straight, and how to cut a mortise or tenon and dovetail joints
Understanding about the various materials used in finishing; varnishes, stains, lacquers, and glosses.
A mechanical reasoning or aptitude is also essential, mainly because woodworkers work with such a variety of machines and tools. A tool in the hands of an untrained or inexperienced woodworker is a recipe for disaster. Woodworkers should understand and be able to apply mechanical principles to solve any problems they may encounter. Critical thinking skills are important too as woodworkers may face unexpected problems that need to be handled quickly. In this way, woodworkers can use reasoning and logic to foresee any potential problems and develop solutions before mishaps happen.
Woodworkers use geometry, arithmetic, algebra, calculus, and statistics to measure materials and during the planning stages of projects. On any given job, they will calculate sizes, dimensions, distances, and quantities of materials. Computer skills and knowledge of relevant software also benefits woodworkers with job-estimating, project management, and basic spreadsheet or word processing. Woodworkers should be detail-oriented, have good people skills, have steady hands, and physical strength, especially when lifting 100-pound sheets of plywood.
And, although a formal education is helpful, it is not necessary, and most woodworkers receive on-the-job training under the supervision of other more experienced workers. However, because of the ongoing development and modernizing of woodworking machinery, many employers are requiring applicants to have at least a high school diploma, or a few years training in math (specifically geometry) and computer applications. Many woodworkers will receive training by enrolling in a community or technical college. Some may attend a university that offers coursework in furniture manufacturing or wood engineering. Individuals who have earned a degree can often move into management or supervisory positions, or go on to open their own woodworking shop. Becoming a skilled woodworker can often take years, and knowledge of blueprints and work sequences takes training and practice.
If a woodworker wishes to advance in the field or to demonstrate competence in the industry, they may also choose to become licensed. The Woodwork Career Alliance of North America offers a national certificate program. The AWI, or Architectural Woodwork Institute sets standards for the industry and offers training programs for management and mid-management positions.
3. Types of Woodworkers & Typical Work Environments
Although the field of woodworking is growing as new technologies are introduced, there are basically four main types of woodworkers:
Furniture finishers may work with antiques or other wood pieces, and shape, finish, stain, seal, and apply top coatings to preserve, repair, and refinish wood furnishings.
Cabinetmakers typically make parts for cabinets or other wood products. They cut, shape and assemble parts, and also often design custom pieces. They may even install cabinetry.
Wood machine operators specialize in running machinery used in woodworking.
Woodworking tenders also operate machinery used in woodworking, including drill presses, routers, planers, and sanders.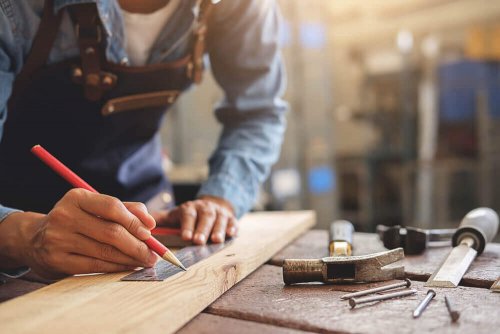 Woodworker's work environments vary depending on job duties. If a woodworker is employed to handle and cut large heavy materials, he or she may work in a factory setting. Cabinet and countertop woodworkers typically work in large or small manufacturing plants. Some woodworkers work in sawmills, while other's work out of home shops. In 2014, there were just over 237,000 jobs for all woodworkers, with other wood product manufacturing employing 23 percent; wood kitchen cabinets and countertop manufacturing employing 21 percent. Most woodworkers work a regular, full-time workweek.
Employment growth is also expected to be good for woodworkers who specialize in items used in renovation, such as moldings, cabinets, stairs, and windows. Firms that focus on custom woodwork should be able to compete against imports without the need to outsource jobs to other countries.
Contact us for more information.