For lovers of Forest Park, it's hard to imagine that there are many people who never visit the Park—but there are.
A big part of Forest Park Forever's Director of Community Engagement Anne Grossmann's job is working with our City of St. Louis partners to identify barriers that might keep people out of the Park, and then removing them.
"People need to feel comfortable, safe and welcomed in the natural areas of the Park, so our team thinks a lot about things like poison ivy on walking paths, or places where wintercreeper makes the forest dark and scary," Grossmann says. "But another part of our work in partnership with the City of St. Louis is making sure that we are making the Park a place everyone can enjoy, regardless of different abilities." 
Recently, I took a walk with Grossmann to four sites where resources have been invested to make Forest Park a place for all: the Variety Wonderland Playground near the Dennis & Judith Jones Visitor and Education Center, the Anne O'C. Albrecht Nature Playscape, the World's Fair Pavilion Comfort Station, and the new gravel path through the Successional Forest. 
Join us for a tour of a few of the Park's accessibility features that you may not notice.  
The Variety Wonderland Playground
When the Variety Wonderland Playground opened in 2005, it was already ahead of its time. But after its May 2021 renovations, this Park favorite improves accessibility. 
On the We-Go-Round, kids in wheelchairs spin alongside playground mates, because they can wheel directly onto this specially designed merry-go-round. Parallel bars at different heights allow differently-abled kids to grasp the bars overhead. Easy transfer points allow children to easily move from wheelchairs onto the new slides without feeling any different. 
"These innovations create opportunities for inclusive play," Grossmann says. "The Variety Wonderland Playground is about more than play—it's about building relationships."
Indeed, one of the most popular features, the metal disk swing, is a magnet for all kids. Grossmann says it is the most popular feature in the renovated playground.
"It's cool and popular, and it's designed around mobility needs, stability and support, but you would never know it," says Grossmann. "All the kids are naturally drawn to it." 
The Forest Park team worked with Variety, the Children's Charity of St. Louis, to identify the playground's new functionality and activities. Then, they worked with the same provider of accessible equipment they used for the original playground.
And they have literally thought of everything. For example, the playground includes both plastic and metal slides.
"Kids with cochlear implants can't use plastic slides, because the static buildup interferes with the sensitive electronics in their hearing devices," Grossmann explains.
Add the sensory play wall and the refurbished, super-soft surface, and you truly have a playground for everyone.
"Everything we do at Variety focuses on developing skills, ending isolation, building self-esteem, and instilling independence for kids with different abilities," says Brian Roy, Executive Director of Variety. "And everything in this reimagined playground supports those goals.
"Forest Park is a gem," Roy continues, "and to have been at the forefront of creating the Wonderland Playground in 2005 and see it continue to expand as a place where all kids and families can play together has been amazing. We are so grateful to everyone who helped make it possible."
The Nature Playscape
Unlike the 21st-century equipment in the Variety Wonderland Playground, you won't find any equipment in the Anne O'C. Albrecht Nature Playscape—but it's every bit as accessible. 
"The Nature Playscape is truly about taking little safe risks, but we designed it to allow everyone to take those risks," says Grossmann. "Even the benches are designed with accessibility in mind."
Accessibility features start between the Nature Playscape and the World's Fair Pavilion.
"Ten years or so ago we surveyed people who used the recreational path system about improvements and amenities they would like to see, and the new World's Fair Comfort Station resulted from some of this feedback," Grossmann says. "There was a strategic decision to connect the restoration of this restroom site with the creation of the Playscape. It's a great meetup place for bikers and runners, but also for anyone using the Playscape."
In addition to its heated restrooms that can be used year-round, Grossmann proudly points out the new tables where people can gather and enjoy a picnic lunch before exploring the Playscape.
"Some of them are designed with only three seats, which leaves room on the fourth side," Grossmann notes "That lets anyone in a wheelchair roll right up to the table and eat with their friends and family."
The Playscape's accessibility features, like the Playscape itself, result from the voices of children. In more than 20 engagements at community centers, schools, after-school programs, youth programs, and more, kids of all abilities used Colorforms to lay out their vision for the design team. A smaller group of kids, the Youth Advisory Committee, known as the YAC, met with the New York-based design team—virtually or in-person—whenever they came to town. The City of St. Louis' Office on the Disabled participated in design discussions and reviews.  
Continuing to the Playscape, Grossmann points out the wheelchair-accessible parking spaces before starting down the carefully designed gravel paths.
"The gravel is actually over an asphalt base," Grossmann says, scraping away a thin layer of stone to demonstrate. "That makes it fully accessible. The grade and transitions to boardwalks all meet Americans with Disabilities Act (ADA) requirements. The other paths are also up to most people's abilities, whether they are using a wheelchair, walker or another mobility device." 
As we walk through the 17-acre Playscape, Grossmann points out how even many natural features, such as boulders in the Spring, are placed for easy transfer from a wheelchair. Virtually anyone can dangle their toes in the water here.
Meanwhile, official signs along with the path feature braille, and they are placed at eye level for wheelchair users and young ones. Such features provide accessibility, but the signage also makes it easier for everyone to enjoy the Playscape. 
"We were intentional about designing for international visitors, making sure they felt welcome, too," Grossmann says. "The design team developed a kind of universal iconography for essential services, such as drinking fountains and comfort stations. That way, if you're lost or you're looking for something and English is not your first language, you can look at the sign and know where to go."
Smaller details throughout the Nature Playscape demonstrate its planner's commitment to providing a safe environment for all. Even a humble one-inch edging along boardwalk areas plays an important role.
"In some places, we do have railings for safety, but we love providing access without having rails everywhere when we can," Grossmann explains. "That little edging allows people in wheelchairs, visually impaired visitors or kids in strollers to experience nature safely, with nothing in between them. 
And then there are the benches. 
"Just like some of the tables in the Comfort Station, the benches are designed and placed so people in wheelchairs or other mobility devices don't have to be at the end, apart from their group," she says. "They can sit right in the middle and feel included, which is so important and something most people don't think about."
The Successional Forest … and Beyond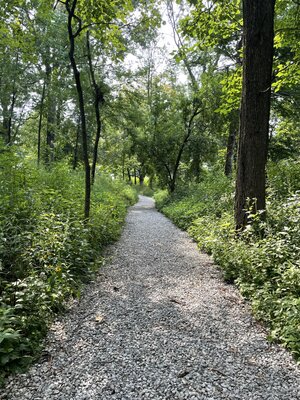 As a bonus, most of the benches are made from wood that was either reclaimed from the Nature Playscape site during construction or from elsewhere in Forest Park. Sitting on a bench and looking from the Nature Playscape to the bright gravel path that now cuts through the Successional Forest (providing more access, however not ADA compliant) to the east, the message is clear: Nature is here for us, and we are here for nature.
"It's a nice juxtaposition, because you start at the Comfort Station, which is relatively controlled, and move into the Nature Playscape," Grossmann says. "The Nature Playscape allows more unstructured play than the Variety Wonderland Playground, but with formal, fully accessible trails. With the new trail through the more unstructured and rustic Successional Forest, even a wilder area feels more accessible."
Grossmann's hope is that as people feel comfortable moving from the Playscape to the Successional Forest, they will feel safe and welcomed throughout the Park.
"Maybe they'll go from the Successional Forest to one of the savannas, or prairies, or to Kennedy Forest and experience those as well," notes Grossmann. "That way, people of all abilities can see how important these natural areas and green spaces are, and enjoy some creative play in a slightly less structured world."